We were so excited to have the opportunity to makeover a small space in our Urban Forge retail store in Mountain View, Arkansas. The space, along with being small, also had irregular angles which created a challenge when coming up with a design plan. As you can tell from the video, the design of the space was not cohesive. From having Southwestern accent pieces and small décor items that reflected a winter or fall design, the space really did need an upgrade!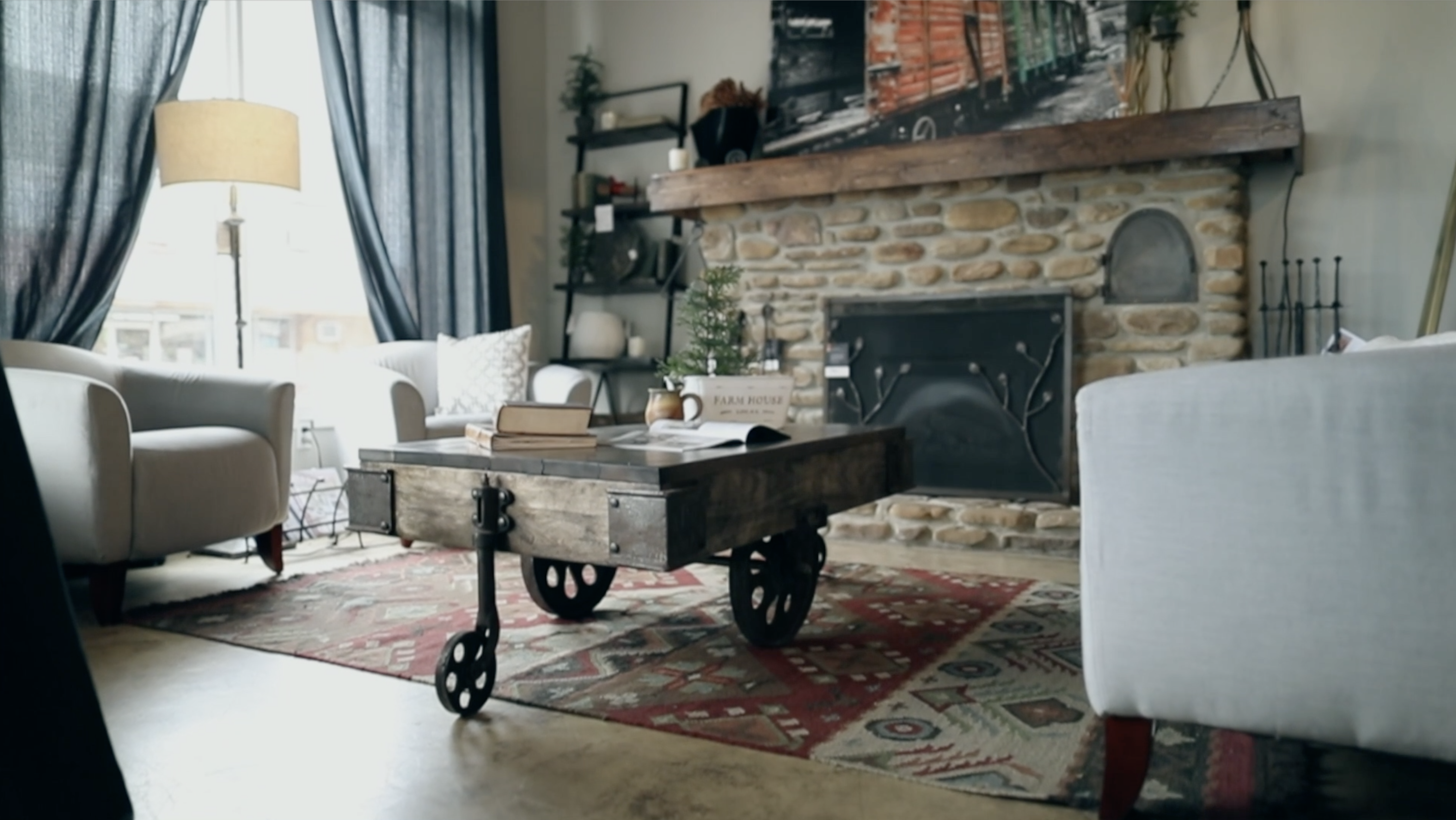 Since spring has sprung in the Ozarks, we decided to focus our design plan around just that….SPRING! When doing a new design plan, you can reuse your large furniture items. For us that meant keeping the same couch, chairs, shelf, and coffee table. We added a new rug that was much larger and had blue floral pattern that helped to expand the room and gave the room a much brighter appearance.
Our next large project area was the fireplace. On the mantle, we took an oversized art piece and replaced it with a Blackwell Iron Wall Mirror in a burnished gold finish. This mirror is visually stunning and helped to add a sense of height to the space. To stay true to our spring theme, we hung a wreath on the mirror. We reused the gold candleholders that had previously been on the mantle but added new candles. We also added differing heights of décor to accentuate the mirror.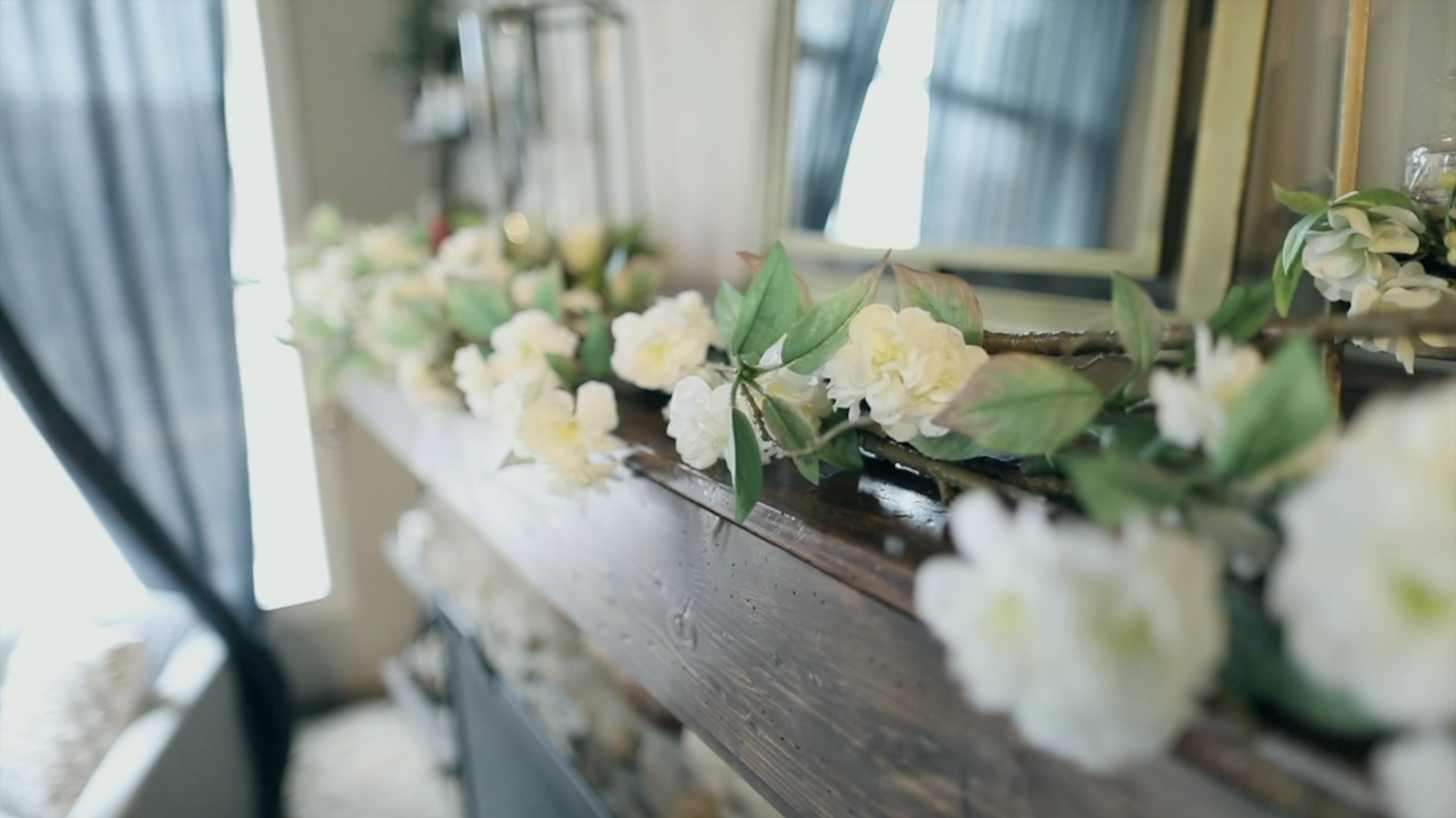 We removed the floor lamp and magazine rack that was located between the two chairs and added a new side table. We chose the Meridian Design Side Table. While adding a sophisticated look to the space, it also adds an industrial element that pairs well with the wall shelf and coffee table. We adorned the table with a new gold Clarkridge Iron Table Lamp and a few select décor pieces. We also added a gold floor lamp beside the couch to add an element of light in that area.
We reused the 201 Wall Shelf that was in the previous design and added new décor. From the hand-forged iron cross with gold accent to the old typewriter on the bottom of the shelf, adding a few new décor items created a wonderful conversation piece.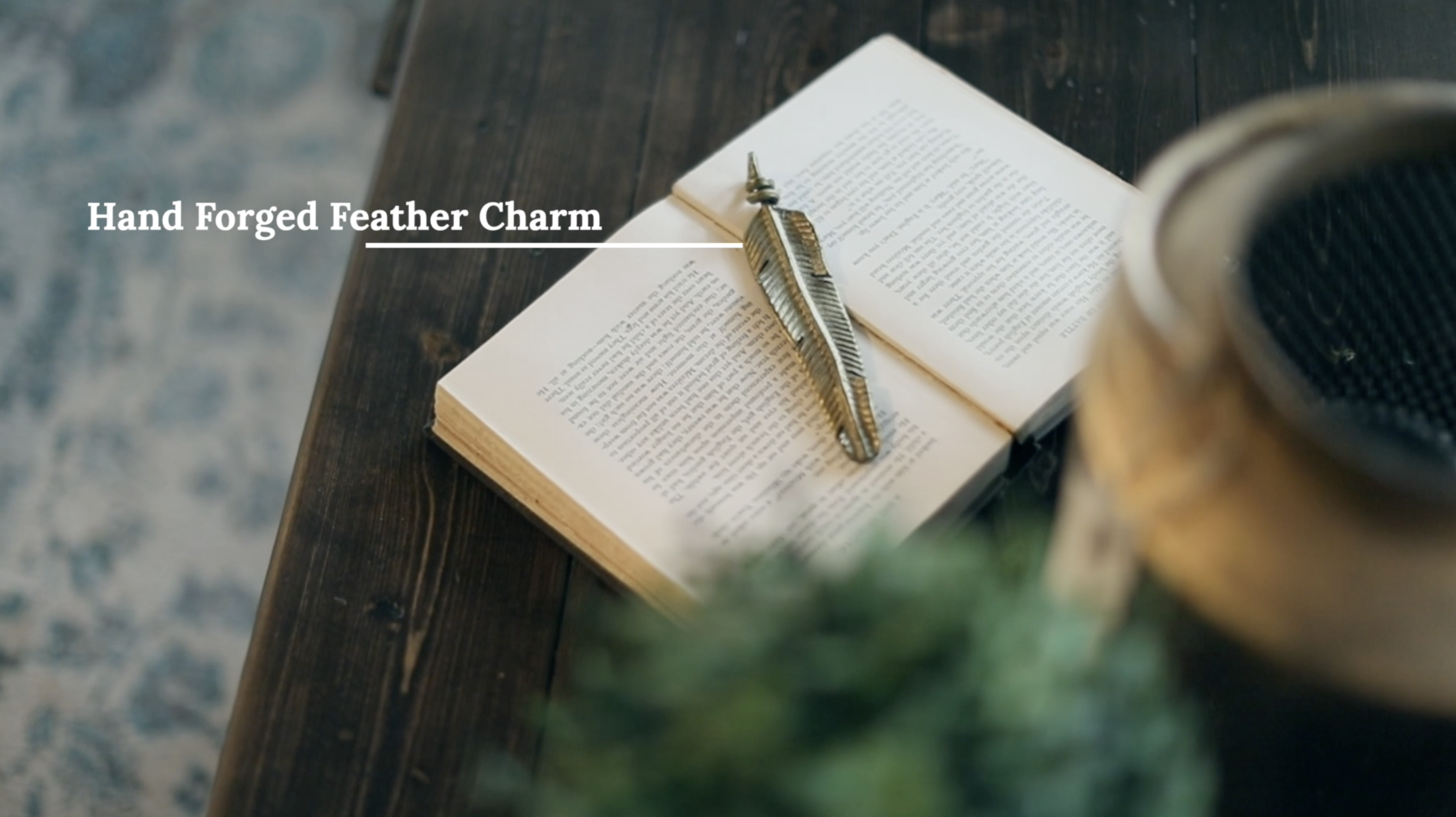 We loved the style of the Supply House Vintage Caster Cart and kept it as the anchor in the sitting space. By only changing out the tabletop décor to add spring elements, we gave the room a more inviting feel. We updated the couch and chairs from the previous design by adding accent pillows with different textures and colors. By doing so, it gave the space a luxurious look and feel.
As you are looking at your own home, keep in mind that small changes can have a dramatic affect! Reach out to us for more information or for help with your space!